Author! Author!
Welcome to the reasonably official website of Stephen White - freelance writer, scriptwriter, songwriter, performer, contortionist, and
bon vivant!
Although I write a lot of different things, the work which is most familiar to people is that which I've done for

"Barney & Friends™"

- the happy go lucky, singing & dancing,

"say please & thank you!"

dinosaur. The big purple fellow and I go way back: I wrote his very first PBS television episode, and a dinosaur-sized chunk of everything that followed. For a more exhaustive listing, just click on the button above marked

"Barney™ & Me."
With that out of the way, I'll give you a little biographical information. I was born and raised in Indianapolis, Indiana and later moved to Bloomington, Indiana to attend Indiana University. I took one creative writing class at IU and, frankly, it was a loathsome experience. Bloomington was pretty cool, though, and I kicked my way into both writing and showbiz with on-the-job training. For writing, I took a job scripting and voicing radio commercials at

WBWB-fm

. The spots were produced by the immensely funny and talented

Rich Stone

who became a dear lifetime friend, and who went on to win 7 Emmys for writing music for the Animaniacs television series (among many other successes). And as far as "Showbiz" goes, my (much younger) twin brother

Michael White

and I formed a comedy group called

"The Fabulous White Brothers,"

which performed odd and occasionally disturbing acts of comedy and music before appreciative (and frequently intoxicated) audiences.
Love and a U-Haul truck eventually took me to

Dallas, Texas

where I continued writing and producing radio and television materials for ad agencies (I won a prestigious "golden bone" award in the 80's. And no, I'm not really sure what the golden bone stands for either, but I got a nice lucite paperweight out of it). I also wrote a ton of topical daily radio comedy for a company called

"The Morning Punch"

(you know how funny your favorite morning DJ's are? They get jokes sent to them every morning.)
These assignments segued into scriptwriting and audio production for those lovable, laughable robots at

Chuck E Cheese

for a number of years. And from there it was just a short hop to working on a little start-up project called

"Barney & Friends."
This is just a cursory overview ("Hey, the Barney guy just said

'cursory'!

) and you'll find more detail and a few surprises on the other pages. Whether you're a potential client interested in my freelance services, a fan of one or more of the properties I've worked on, or just someone playing Internet roulette, I bid you welcome and hope you enjoy your visit here!
-Stephen White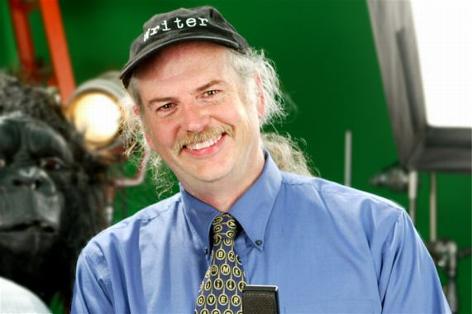 By the way, if you've come here looking for the

Stephen White

who is an author of pulse-pounding, bestselling murder mysteries,

I'm not him

- but you can find him

here

and by all means tell him he's doing a bang-up job of making our mutual name look good!

(True story: the

other

Stephen White once had a booksigning in which the store had two stacks of books - his own murder mystery, and one of my Barney preschool picture books. The store wasn't sure which author he was. Being a nice guy, he signed whichever book the customers wanted!)